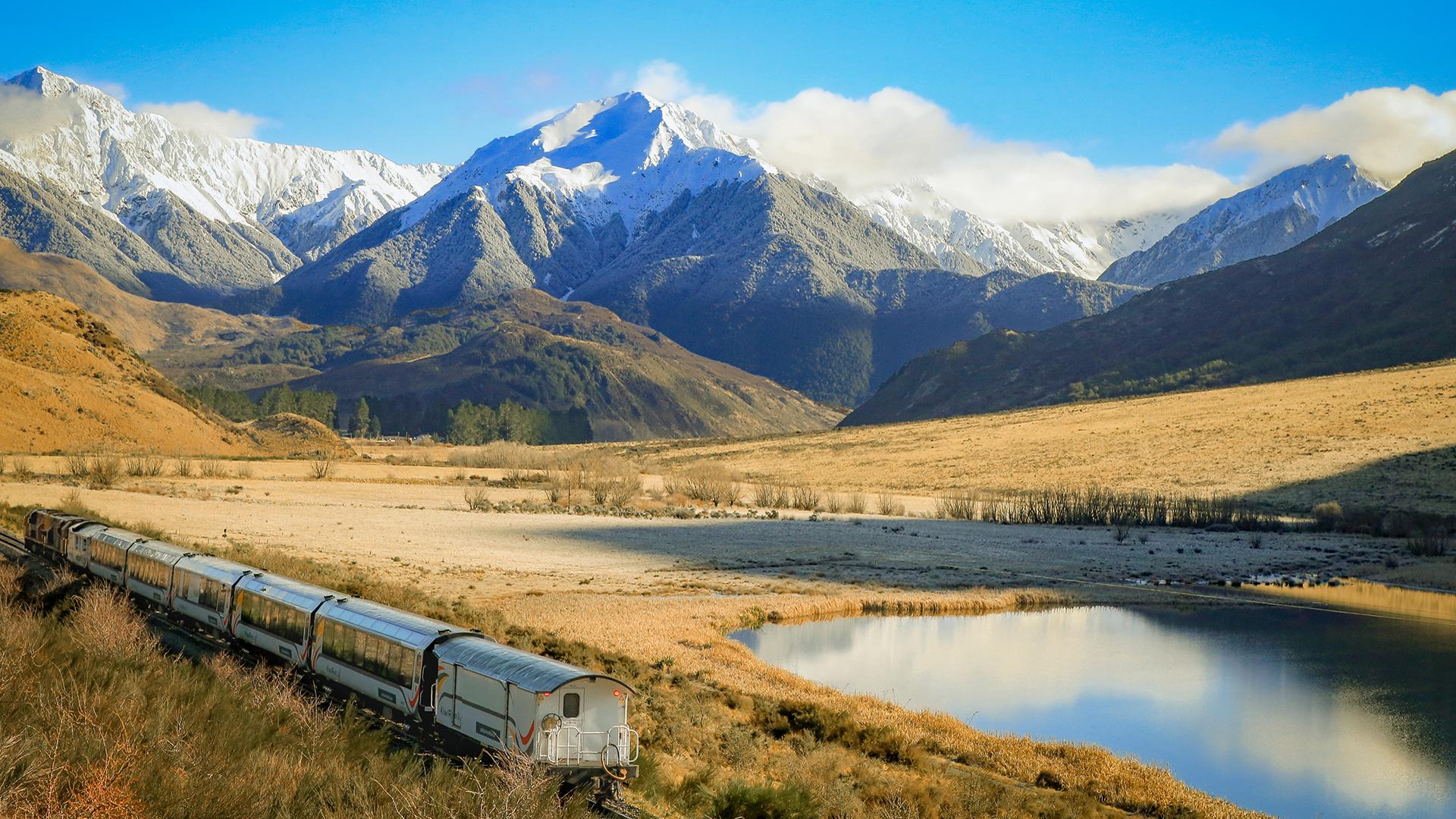 New Zealand's South Island: 7-Day Luxury Small-Group Tour with TranzAlpine Train Journey, Franz Josef Helicopter Ride & Milford Sound Scenic Flight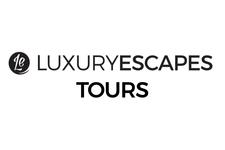 We're here to help if your escape is affected by COVID-19
A whole world of natural wonder beckons on New Zealand's South Island — and this exceptional small-group tour (max. 16 travellers) leaves no stone unturned. Experience the magical atmosphere of Christchurch, hailed as the 'Garden City', before boarding the world-famous TranzAlpine train. Traverse rugged landscapes over the course of this five-hour journey, taking in the thrilling vistas as you pass the Waimakariri River, weave through deep gorges and descend native beech forest to arrive in Greymouth. From here, continue to the welcoming town of Franz Josef. Reach new heights in a helicopter, as you soar above Franz Josef and Fox Glacier to witness piercing blue ice formations. Land on a glacier and take the chance to step onto the icy terrain and breathe the fresh alpine air. The next stop will take you to the world's action capital, Queenstown, where you'll be treated to a scenic flight over Milford Sound, followed by a memorable nature cruise, and a half-day e-bike guided cycling tour through the surrounding trails of nearby Arrowtown.
Your adventure is fuelled by wonderful food and wine experiences. Take your tastebuds on a journey with a Spanish-inspired welcome dinner, lunch at a local brewery, a guided tasting experience at Gibbston Valley Winery, and a farewell dinner in one of Queenstown's most iconic waterfront sites. With action-packed days of guided experiences, six nights of luxury accommodation and free time for you to explore at your own pace, this memorable journey is one of a lifetime.
Your tour includes:
Six nights of luxury accommodation: one night at Hotel Montreal in Christchurch, two nights at the Scenic Hotel Franz Josef Glacier and three nights at The Rees Hotel, Luxury Apartments & Lakeside Residences, Queenstown
Daily dining as per the itinerary (six breakfasts, five lunches and five dinners with wine)
Experience one of the world's most famed train journeys – The TranzAlpine, from Christchurch to Greymouth
Soar over Franz Josef and Fox Glacier with a scenic helicopter flight
Cruise Lake Mapourika and visit a kiwi sanctuary
See Milford Sound from above on a scenic flight
Deepen your knowledge of Milford Sound on an unforgettable wilderness cruise
Exclusive wine tasting at Gibbston Valley Winery, just outside Queenstown
Discover Arrowtown's trails on two wheels with a half-day e-bike guided cycling tour
The services of an expert driver-guide (and a tour director for groups over 10)
Comfortable air-conditioned transport throughout
Roundtrip airport transfers on the first and last day
Your journey takes you to: Christchurch — Greymouth — Franz Josef — Queenstown.
Book with 100% Confidence: Right up until 90 days before departure you can enjoy unlimited, free date changes, or cancel and get a 100% credit to use at Luxury Escapes for any other Limited Time Lux Exclusive accommodation, tour or cruise offer. Excludes flights, see the Fine Print for details.
Furthermore, if you are unable to travel on your tour as a result of Government travel restrictions, even right up to the day of departure, Luxury Escapes will assist you with a date change. We can also provide you with a credit or refund for your booking (less any non-recoverable costs). See below for full terms and conditions.
Time limited offer
7 Days from
Twin Share
Valued up to NZ$9,036
holiday Options
7 Days from
Valued up to NZ$9,036
Sold out
Inclusion highlights:
Inclusions valid for one person (twin share) — you MUST purchase TWO packages
Includes private room and bath throughout tour with king or queen bed, or two bed options
Six nights of luxury accommodation: one night at Hotel Montreal in Christchurch, two nights at the Scenic Hotel Franz Josef Glacier and three nights at The Rees Hotel, Luxury Apartments & Lakeside Residences, Queenstown
Daily dining as per the itinerary (six breakfasts, five lunches and five dinners with wine)
Experience one of the world's most famed train journeys – The TranzAlpine, from Christchurch to Greymouth
Soar over Franz Josef and Fox Glacier with a scenic helicopter flight
Cruise Lake Mapourika and visit a kiwi sanctuary
See Milford Sound from above on a scenic flight
Deepen your knowledge of Milford Sound on an unforgettable wilderness cruise
Exclusive wine tasting at Gibbston Valley Winery, just outside Queenstown
Discover Arrowtown's trails on two wheels with a half-day e-bike guided cycling tour
The services of an expert driver-guide (and a tour director for groups over 10)
Comfortable air-conditioned transport throughout
Roundtrip airport transfers on the first and last day
7 Days from
Valued up to NZ$9,231
Sold out
Inclusion highlights:
Inclusions valid for one person (twin share) — you MUST purchase TWO packages
Includes private room and bath throughout tour with king or queen bed, or two bed options
Six nights of luxury accommodation: one night at Hotel Montreal in Christchurch, two nights at the Scenic Hotel Franz Josef Glacier and three nights at The Rees Hotel, Luxury Apartments & Lakeside Residences, Queenstown
Daily dining as per the itinerary (six breakfasts, five lunches and five dinners with wine)
Experience one of the world's most famed train journeys – The TranzAlpine, from Christchurch to Greymouth
Soar over Franz Josef and Fox Glacier with a scenic helicopter flight
Cruise Lake Mapourika and visit a kiwi sanctuary
See Milford Sound from above on a scenic flight
Deepen your knowledge of Milford Sound on an unforgettable wilderness cruise
Exclusive wine tasting at Gibbston Valley Winery, just outside Queenstown
Discover Arrowtown's trails on two wheels with a half-day e-bike guided cycling tour
The services of an expert driver-guide (and a tour director for groups over 10)
Comfortable air-conditioned transport throughout
Roundtrip airport transfers on the first and last day
SOLO TRAVELLER — LOW SEASON
7 Days from
Valued up to NZ$10,247
Sold out
Inclusion highlights:
Inclusions valid for one person (solo traveller)
Includes private room and bath throughout tour with king or queen bed, or two bed options
Six nights of luxury accommodation: one night at Hotel Montreal in Christchurch, two nights at the Scenic Hotel Franz Josef Glacier and three nights at The Rees Hotel, Luxury Apartments & Lakeside Residences, Queenstown
Daily dining as per the itinerary (six breakfasts, five lunches and five dinners with wine)
Experience one of the world's most famed train journeys – The TranzAlpine, from Christchurch to Greymouth
Soar over Franz Josef and Fox Glacier with a scenic helicopter flight
Cruise Lake Mapourika and visit a kiwi sanctuary
See Milford Sound from above on a scenic flight
Deepen your knowledge of Milford Sound on an unforgettable wilderness cruise
Exclusive wine tasting at Gibbston Valley Winery, just outside Queenstown
Discover Arrowtown's trails on two wheels with a half-day e-bike guided cycling tour
The services of an expert driver-guide (and a tour director for groups over 10)
Comfortable air-conditioned transport throughout
Roundtrip airport transfers on the first and last day
SOLO TRAVELLER – HIGH SEASON
7 Days from
Valued up to NZ$10,548
Sold out
Inclusion highlights:
Inclusions valid for one person (solo traveller)
Includes private room and bath throughout tour with king or queen bed, or two bed options
Six nights of luxury accommodation: one night at Hotel Montreal in Christchurch, two nights at the Scenic Hotel Franz Josef Glacier and three nights at The Rees Hotel, Luxury Apartments & Lakeside Residences, Queenstown
Daily dining as per the itinerary (six breakfasts, five lunches and five dinners with wine)
Experience one of the world's most famed train journeys – The TranzAlpine, from Christchurch to Greymouth
Soar over Franz Josef and Fox Glacier with a scenic helicopter flight
Cruise Lake Mapourika and visit a kiwi sanctuary
See Milford Sound from above on a scenic flight
Deepen your knowledge of Milford Sound on an unforgettable wilderness cruise
Exclusive wine tasting at Gibbston Valley Winery, just outside Queenstown
Discover Arrowtown's trails on two wheels with a half-day e-bike guided cycling tour
The services of an expert driver-guide (and a tour director for groups over 10)
Comfortable air-conditioned transport throughout
Roundtrip airport transfers on the first and last day