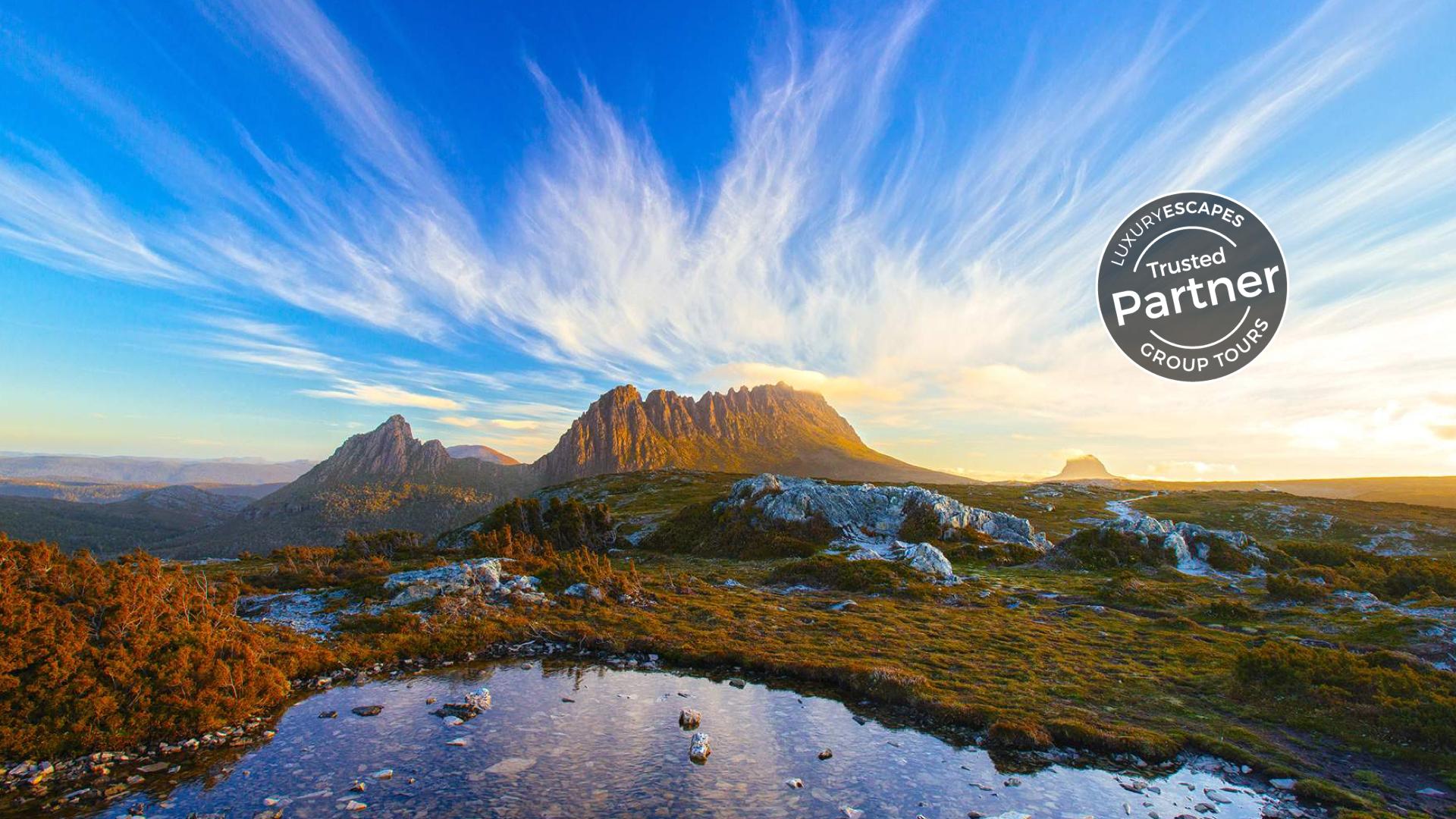 OFFER EXTENDED: Tasmania: 6-Day West Coast Tour from Hobart to Launceston with 4-Day East Coast Extension
At the edge of the world, embrace Tasmania's west coast, uncovering grand natural wonders, culinary delights, whispered tales of a haunted past and true wilderness on a 6-day tour. Discover the magic of Russell Falls, take in the spectacular views towards Cradle Mountain, glide along the secluded wilderness highway of the Gordon River on a boat tour – when you'll taste famous Tasmanian salmon – and enjoy a cheese-tasting at the award-winning Ashgrove Tasmanian Farm.
Includes five nights of premium accommodation, daily breakfast and select meals as per itinerary, the services of expert local guides, airport transfers and so much more.
Your journey takes you to: Hobart — Strahan — Cradle Mountain — Smithton — Launceston.
Time limited offer
6 or 10 Days From
Two Adults
Valued up to NZ$2,358
holiday Options
6 Days From
Valued up to NZ$2,358
Sold out
Inclusion highlights:
Packages valid for one person (twin-share)– you must purchase two packages
Five nights of premium accommodation including one night in Hobart, one night in Strahan, one night in Cradle Mountain, one night in Smithton and one night in Launceston
Daily breakfast, one lunch and four dinners
Stay in the heart of the alpine forests of Tasmania's central highlands at Cradle Mountain Hotel
Savour lunch on a relaxing cruise across Australia's second-largest harbour and down the Gordon River
SOLO TRAVELLER - ON REQUEST ONLY
6 Days From
Valued up to NZ$2,878
Sold out
Inclusion highlights:
Packages valid for one person
Five nights of premium accommodation
Daily breakfast, one lunch and four dinners
Stay in the heart of the alpine forests of Tasmania's central highlands at Cradle Mountain Hotel
Savour lunch on a relaxing cruise across Australia's second-largest harbour and down the Gordon River
10 Days From
Valued up to NZ$3,684
Sold out
Inclusion highlights:
Packages valid for one person (twin-share) – you must purchase two packages
Nine nights of premium accommodation
Daily breakfast, one lunch and six dinners
Walk within a sea of purple at the Bridestowe Lavender Estate
Experience the grandeur of Freycinet National Park
SOLO TRAVELLER - EXTENSION - ON REQUEST ONLY
10 Days From
Valued up to NZ$4,622
Sold out
Inclusion highlights:
Packages valid for one person
Nine nights of premium accommodation
Daily breakfast, one lunch and six dinners
Walk within a sea of purple at the Bridestowe Lavender Estate
Experience the grandeur of Freycinet National Park