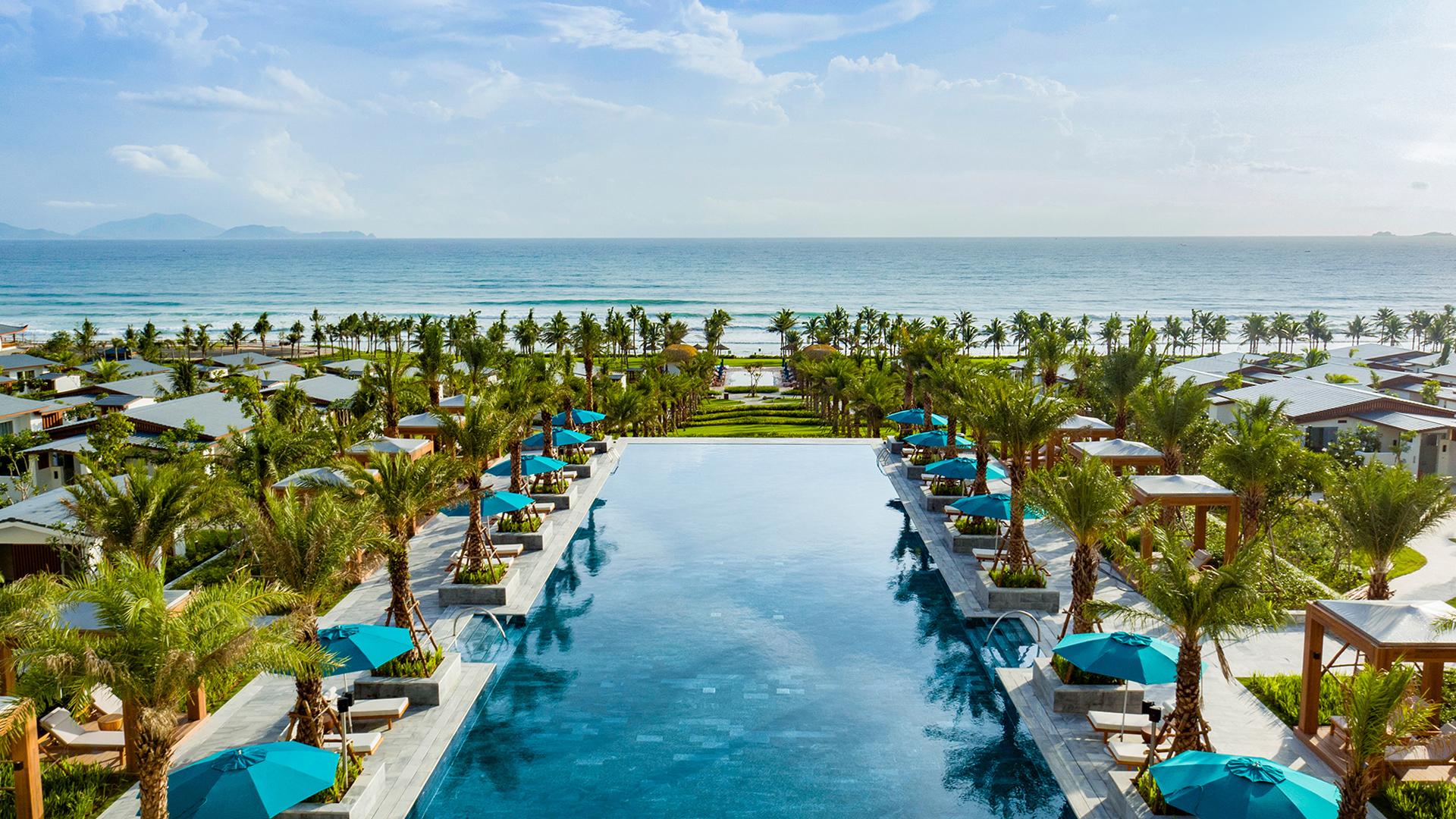 Grand Opening: Radisson Beachfront Luxury with Daily Dining and Nightly Cocktails
Be amongst the first to experience the brand-new Radisson Blu Cam Ranh, a five-star beachfront jewel with spectacular ocean views from every room, nestled on a pristine private beach. Find your slice of tropical paradise in Vietnam's hottest beach destination as you indulge in daily breakfast, your choice of daily buffet lunch or dinner each day, a nightly sunset cocktail per person, a 45-minute massage, in-room minibar with complimentary water and soft drinks replenished daily and return airport transfers from Cam Ranh International Airport.
Travelling with children? Check out our family upgrade, with two children aged 12 years and under staying for free, unlimited access to the Kids Club and two interconnecting rooms with plenty of space for everyone.
6, 8 or 10 Nights From
Valued up to NZ$2,900
holiday Options
BEACHFRONT BLISS
Deluxe Room Ocean View
Inclusion highlights:
Inclusions valid for two adults
Daily buffet breakfast
Your choice of daily buffet lunch or dinner
A nightly sunset cocktail per person
Return airport transfers from Cam Ranh International Airport
FAMILY UPGRADE
Interconnecting Deluxe Room Ocean View
Inclusion highlights:
Inclusions valid for two adults and two children aged 12 years and under
Daily buffet breakfast
Your choice of daily buffet lunch or dinner
A nightly sunset cocktail per adult
Return airport transfers from Cam Ranh International Airport
SUITE UPGRADE
Junior Suite Ocean View
Inclusion highlights:
Access to the Executive Lounge and all its benefits
Daily breakfast, all-day refreshments and nightly sunset cocktails in the lounge
Your choice of daily buffet lunch or dinner with an ever-changing menu of local and international favourites
A 45-minute massage at the spa
Return airport transfers from Cam Ranh International Airport
VILLA UPGRADE
One Bedroom Pool Villa Ocean View
Inclusion highlights:
Access to the Executive Lounge and all its benefits
Daily breakfast, all-day refreshments and nightly sunset cocktails in the lounge
Your choice of daily buffet lunch or dinner with an ever-changing menu of local and international favourites
A 45-minute massage at the spa
Return airport transfers from Cam Ranh International Airport