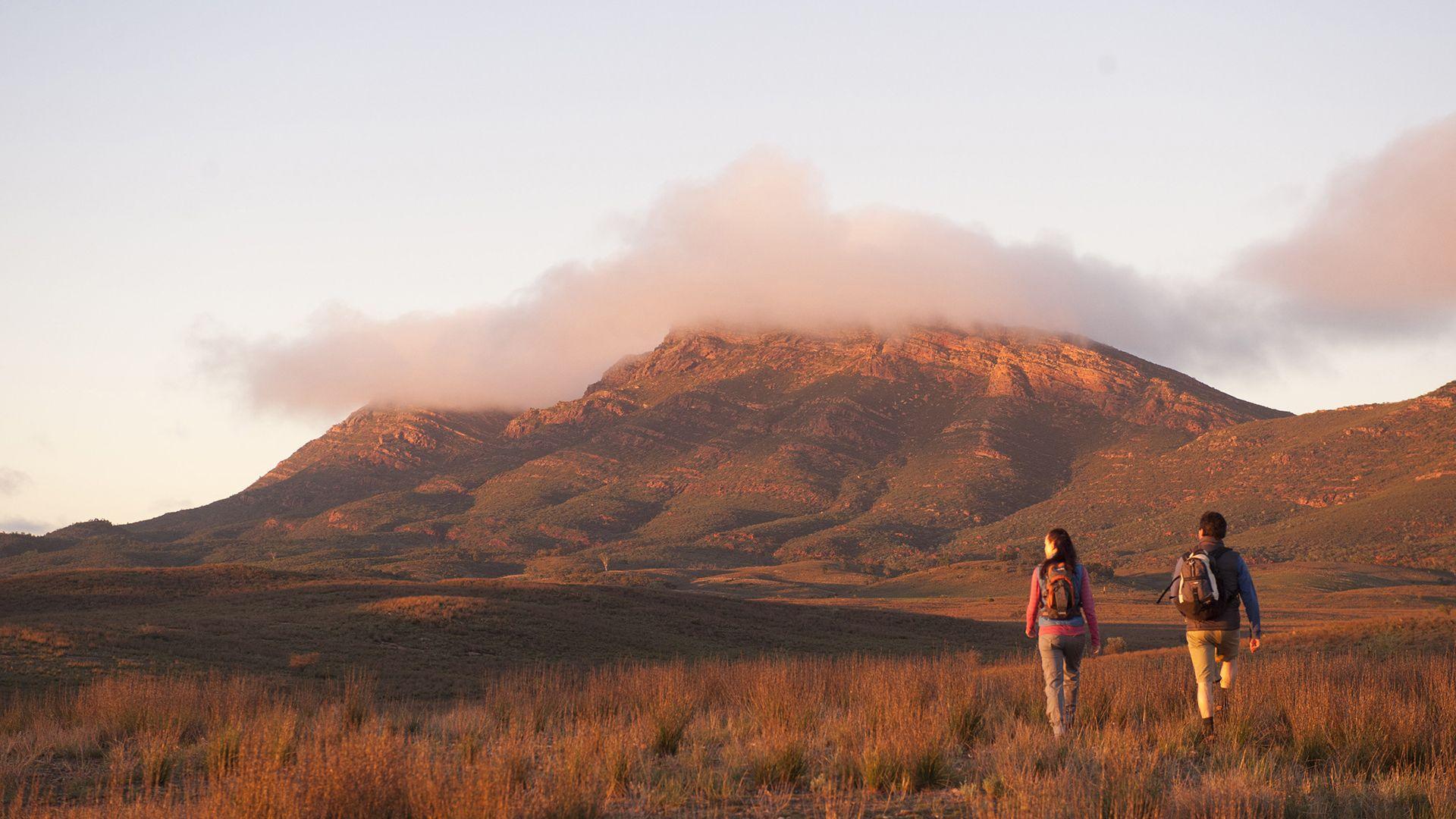 Magical Flinders Ranges: A 5-Day Guided Hike with Dining Inclusions
Discover the otherworldly beauty of South Australia's outback and one of the oldest landscapes on earth, laced with steep ramparts, abandoned homesteads, Adnymathanha Aboriginal sites and native wildlife, flora and fauna as you trek through the iconic Flinders Ranges. Step out with experienced guides and instantly be immersed in the beauty and rich history of the area dominated by Wilpena Pound's 800-million-year-old natural amphitheatre. Your package includes accommodation at Rawnsley Park Station with daily guided hikes of the Heysen Trail, Brachina Gorge and Alligator Gorge with meals and snacks as per the itinerary.
5 Days From
Twin Share
Valued up to NZ$2,186
holiday Options
FLINDERS RANGES TREK - TWIN SHARE
Inclusion highlights:
Packages are valid for one person (twin share)
Four nights' twin-share accommodation at Rawnsley Park Station
Daily breakfast, four lunches and three dinners
Guided hikes of Wilpena Pound, the Heysen Trail, Brachina Gorge and Alligator Gorge
Get a taste for life in the Australian outback as you conquer some of South Australia's most impressive mountainscapes and towering stone ramparts, discover native wildlife and embark on great bush walks with experienced guides in the Flinders Ranges. Hike through little known and untouched sections of this mesmerising landscape, soak up the stunning scenery, watch Emus wander across vast expanses far from other human life and keep an eye out for the yellow-footed rock wallabies bounding from boulder to boulder.
What you'll love…
The Accommodation - Nestled in the majestic Flinders Ranges
Set at the foot of the Rawnsley Bluff , Rawnsley Park Station is the ultimate place to escape, relax and explore the outback.
Set amongst nature and boasting spacious fully self-contained homes, each two-bedroom cabin features a shared bathroom and living area, a private deck with an outdoor setting, air conditioning, a TV and a DVD player.
The Food - Daily Breakfast, four lunches and three dinners
Wake up to delicious daily continental-style breakfasts - enjoy cereals and porridge, stewed fruits, toast with a variety of condiments, freshly brewed coffee and a selection of teas. Fuel up with four lunches during your walks (which you'll help prepare), plus enjoy nibbles and fresh fruit during break —and a kettle is always ready to boil for teas, coffees or hot chocolates. Enjoy three two-course dinners throughout your stay, prepared by your guides using local South Australian produce.
The Trek - Immerse yourself in the ancient beauty of the Flinders Ranges
Get lost in a kaleidoscope of colours that shift from mauve to chocolates and ochre-red as you traverse the Flinders Ranges' ancient mountainscape, climb up steep ramparts and take a dip in refreshingly cool natural pools on this once-in-a-lifetime trekking adventure.
Your trek truly begins at Mambray Creek Reserve in the Mount Remarkable National Park, where, over three kilometres, you'll wander through Davey's Gully and be treated to spectacular views across Spencer Gulf and Whyalla. Keep your eyes peeled for emus and the rancorous laughter of kookaburras.
Trace Australia's longest walking trail, the famed Heysen Trail, to Wilpena Pound, a vast 800-million-year-old natural amphitheatre. Yura Muda folklore believes this natural wonder was created by two Dreaming serpents who ate so many people during a celebration that they became unable to move, thus forming the vast mountain range.
Wander through the Black Gap and the Pound Range past a variety of mallee, native pine and heath habitats to Bridle Gap, affording mesmerising views of Elder Range.
Unearth the abandoned Hills Homestead to gain a fascinating insight into how challenging life was for the 19th-century pioneering farmers. See what remains of Frederick Hayward's pastoral run and the Aroona homestead
Step back in time as you discover some of the earliest life forms on earth in the Trezona formation and meander through sharp sawtooth ridges of quartzite in the Brachina Gorge. An incredible layering of exposed sedimentary rock, these incredible ridges cover 120 million years of the earth's history.
Walk through beautiful cliffs and jungle scrub to arrive at the mesmerising Blinman Pools, the perfect place for lunch. Wildlife abounds as you wind your way through the rocky creek bed and sheer cliffs, with the possibility to spy clusters of euros (small kangaroos), white cockatoos, parrots and galahs.
Tackle the breathtaking Alligator Gorge as you straddle the Narrows and the Terraces. Immerse yourself in the dramatic beauty of high ochre ridges, deep gorges and watercourses lined with river red gums as you traverse this premier section of the Southern Flinders Ranges.
Your Package Includes:
Four nights' twin-share accommodation at Rawnsley Park Station
Four breakfasts, four lunches and three dinners
Nibbles, fresh fruit, tea, coffee, hot chocolate and biscuits during the walks
The services of two Park Trek guides who will drive, cook and care for you
Return transport from Adelaide in a 12 seater mini-coach
Why you should book with us
Best Price Guarantee
Found a better price? We'll match it… plus more.
Handpicked Partners
We work with the world's most loved brands in travel
Curated By Tour Experts
Saving you time researching and planning