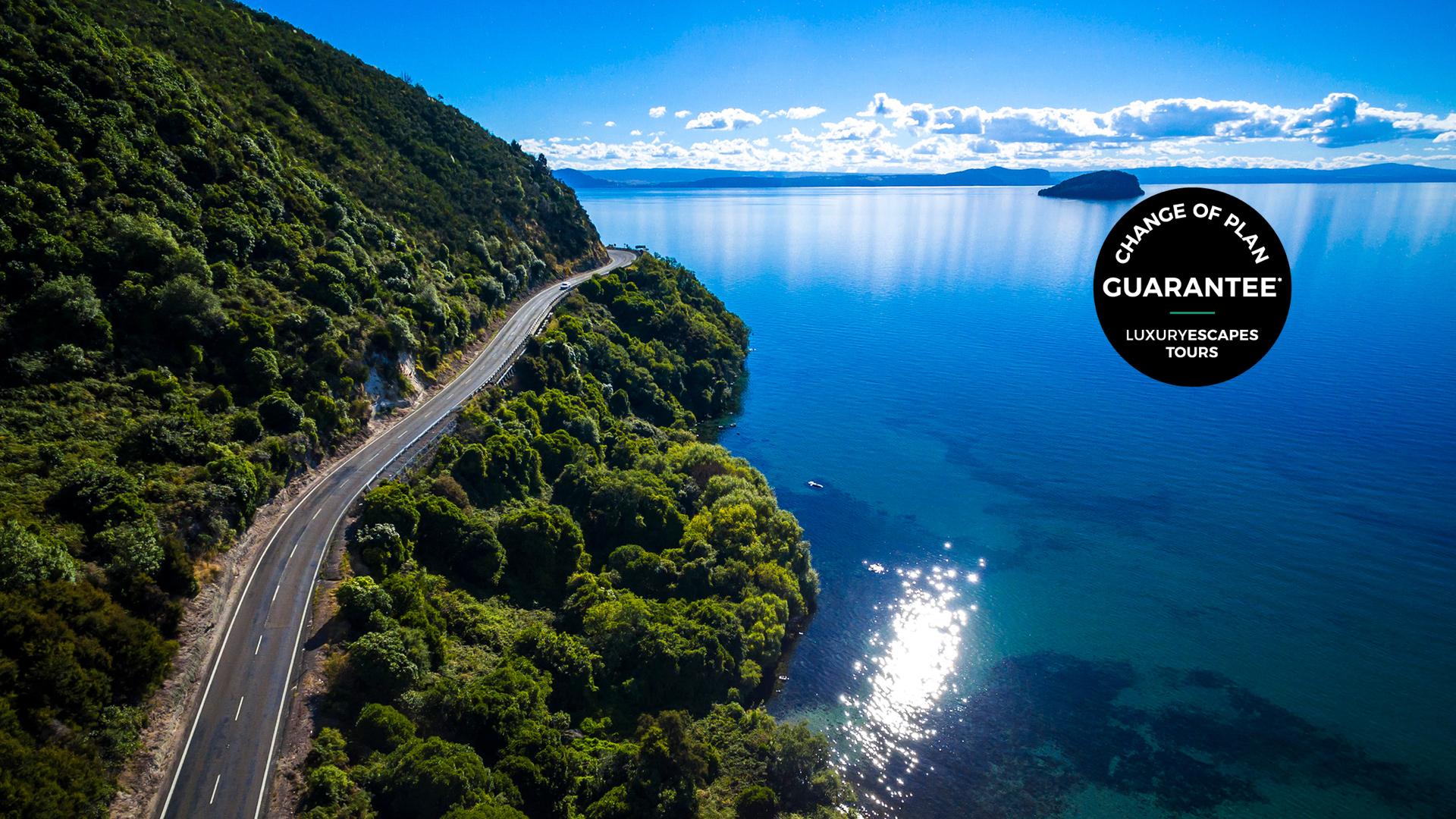 New Zealand's North Island: 7-Day Self-Drive Tour with Lake Taupo Helicopter Flight & Hawke's Bay Wine Tasting
A road trip of New Zealand's North Island proves it's always worth taking the scenic route — especially on a seven-day self-drive journey from Wellington to Auckland. Take your time discovering the North Island's wonders at your own pace, interspersed with a Napier winery-hopping tour with tastings, a scenic cruise and flight over Lake Taupo, a jet boat experience at Huka Falls and a guided tour of the luminous Footwhistle Glowworm Caves, Waitomo.
Includes six nights of accommodation and five days of all-inclusive car rental. Plus, enjoy daily breakfast and select touring experiences per the itinerary.
Your Package Includes:
Six nights of three and four-star accommodation, including two nights at Lakefront Lodge in Taupo
Daily breakfast
Five days of all-inclusive Thrifty Group CCAR (Toyota Corolla or similar) car rental
Half-day wine-tasting tour in Napier/Hawke's Bay
Footwhistle Glowworm Caves tour in Waitomo
90-minute Lake Taupo cruise
Helicopter flight over Lake Taupo, Wairakei geothermal valley and Craters of The Moon
30-minute Huka Falls jet boat experience
Guided tour of the Te Papa Museum of New Zealand OR the Weta Cave Workshop
Sightseeing with expert local guides per itinerary
Your journey takes you to: Wellington — Napier — Taupo — Auckland.
Keen to see the South Island? Kick-off your tour with a pre-tour 7-day South Island self-drive tour.
Book with confidence: Our Change of Plan Guarantee will permit you to alter your booking, no questions asked up to 90 days before departure. Furthermore, if you are unable to travel as a result of Government travel restrictions, Scoopon will assist you with a date change, provide you with a credit or process a refund for your booking less any non-recoverable costs. See Fine Print for details.
holiday Options
Inclusion highlights:
Package valid for one person (twin share) — you must purchase TWO packages
Six nights of three and four-star accommodation, including two nights at Lakefront Lodge in Taupo
Five days of all-inclusive Thrifty Group CCAR (Toyota Corolla or similar) car rental
Half-day wine-tasting tour in Napier/Hawke's Bay
Footwhistle Glowworm Caves tour in Waitomo
90-minute Lake Taupo cruise
Helicopter flight over Lake Taupo, Wairakei geothermal valley and Craters of The Moon
30-minute Huka Falls jet boat experience
Guided tour of the Te Papa Museum of New Zealand OR the Weta Cave Workshop
Sightseeing with expert local guides per itinerary
Inclusion highlights:
Package valid for one person (twin share) — you must purchase TWO packages
Six nights of three and four-star accommodation, including two nights at Lakefront Lodge in Taupo
Daily breakfast
Five days of all-inclusive Thrifty Group CCAR (Toyota Corolla or similar) car rental
Footwhistle Glowworm Caves tour in Waitomo
90-minute Lake Taupo cruise
Helicopter flight over Lake Taupo, Wairakei geothermal valley and Craters of The Moon
30-minute Huka Falls jet boat experience
Guided tour of the Te Papa Museum of New Zealand OR the Weta Cave Workshop
Sightseeing with expert local guides per itinerary
SOLO TRAVELLER — LOW SEASON
Inclusion highlights:
Package valid for one person (solo traveller)
Six nights of three and four-star accommodation, including two nights at Lakefront Lodge in Taupo
Daily breakfast
Five days of all-inclusive Thrifty Group CCAR (Toyota Corolla or similar) car rental
Half-day wine-tasting tour in Napier/Hawke's Bay
Footwhistle Glowworm Caves tour in Waitomo
90-minute Lake Taupo cruise
Helicopter flight over Lake Taupo, Wairakei geothermal valley and Craters of The Moon
30-minute Huka Falls jet boat experience
Guided tour of the Te Papa Museum of New Zealand OR the Weta Cave Workshop
Sightseeing with expert local guides per itinerary
SOLO TRAVELLER — HIGH SEASON
Inclusion highlights:
Package valid for one person (solo traveller)
Six nights of three and four-star accommodation, including two nights at Lakefront Lodge in Taupo
Daily breakfast
Five days of all-inclusive Thrifty Group CCAR (Toyota Corolla or similar) car rental
Half-day wine-tasting tour in Napier/Hawke's Bay
Footwhistle Glowworm Caves tour in Waitomo
90-minute Lake Taupo cruise
Helicopter flight over Lake Taupo, Wairakei geothermal valley and Craters of The Moon
30-minute Huka Falls jet boat experience
Guided tour of the Te Papa Museum of New Zealand OR the Weta Cave Workshop
Sightseeing with expert local guides per itinerary