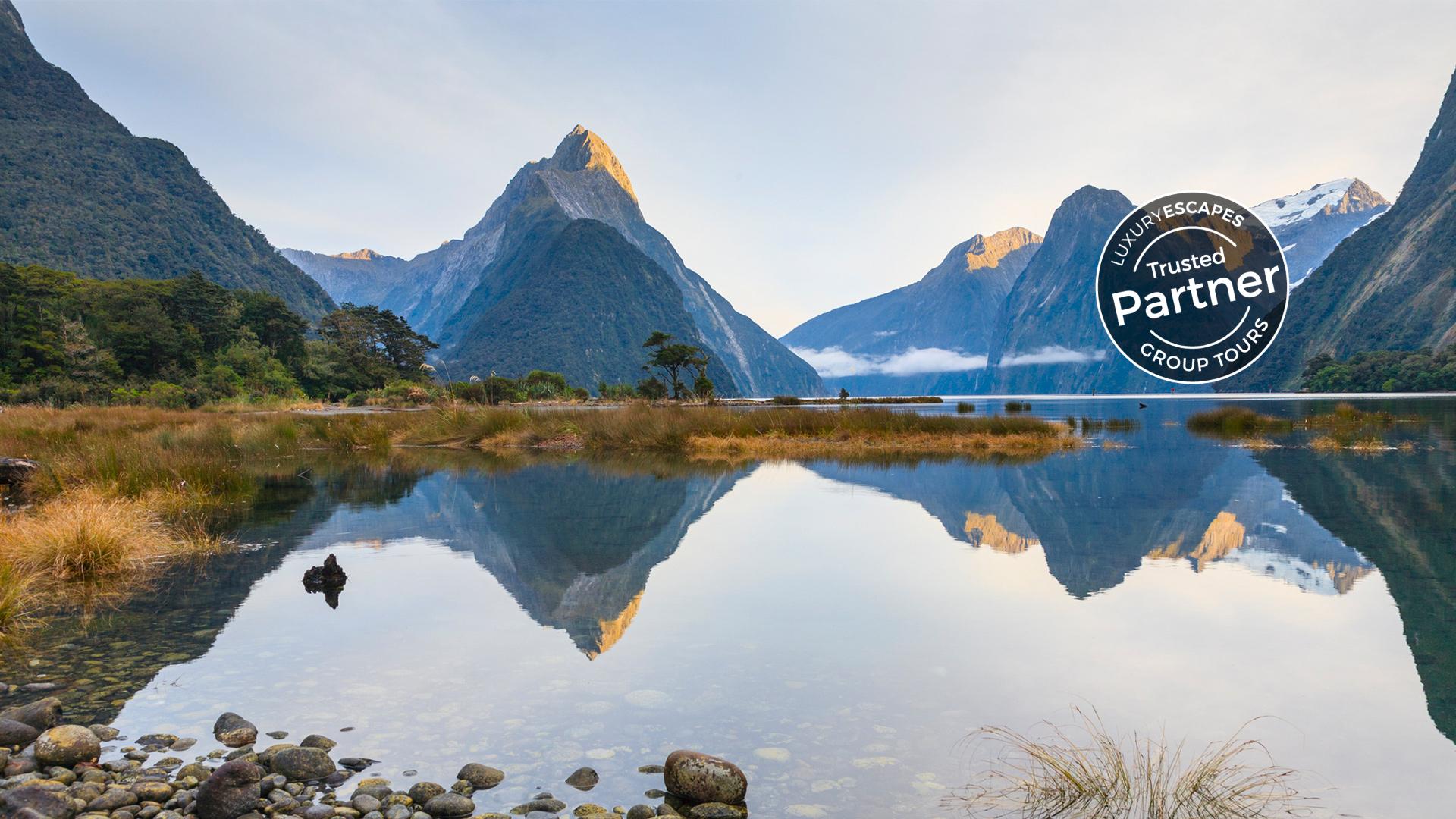 OFFER EXTENDED: New Zealand South Island: 10-Day Tour with Milford Sound Cruise & TranzAlpine Train Journey
Let the magic of New Zealand's South Island take your breath away as you venture through Fiordland, cruise the mist-cloaked Milford Sound, stand before Lake Tekapo's blue waters and admire the snow-dusted peaks of Franz Josef Glacier. With incredible local experiences, including beer tastings, a sheep farm afternoon tea and a scenic TranzAlpine train journey, this 10-day tour from Christchurch to Dunedin and Queenstown will leave you constantly in awe of the incredible scenery.
Includes nine nights of quality accommodation, daily breakfast, eight unique dining experiences including a barbeque dinner and farming demonstration, guided sightseeing with expert local guides, a Milford Sound cruise, travel by air-conditioned coach, return airport transfers and more.
Your journey takes you to: Christchurch — Twizel — Dunedin — Milford Sound — Queenstown — Franz Josef — Punakaiki — Christchurch.
Time limited offer
10 Days From
Twin Share
Valued up to NZ$4,796
holiday Options
10 Days From
Valued up to NZ$4,796
Sold out
Inclusion highlights:
Package valid for one person (twin-share) — you must purchase two packages
Guided walking tours in Christchurch and Queenstown. Plus, a Queenstown tour of your choice
Historic walking tours of Arrowtown, Oamaru and Dunedin. Plus, a Dunedin afternoon tour of your choice
Cruise of the iconic Milford Sound
Guided tour of Monteith's Brewing Company with an included tasting at the brewer's table
Iconic TranzAlpine train journey from Greymouth to Christchurch
See incredible feats of nature, including the turquoise Lake Tekapo, Haast Pass, Franz Josef Glacier and Punakaiki's Pancake Rocks and blowholes
10 Days From
Valued up to NZ$5,274
Sold out
Inclusion highlights:
Package valid for one person (twin-share) — you must purchase two packages
Guided walking tours in Christchurch and Queenstown. Plus, a Queenstown tour of your choice
Historic walking tours of Arrowtown, Oamaru and Dunedin. Plus, a Dunedin afternoon tour of your choice
Cruise of the iconic Milford Sound
Guided tour of Monteith's Brewing Company with an included tasting at the brewer's table
Iconic TranzAlpine train journey from Greymouth to Christchurch
See incredible feats of nature, including the turquoise Lake Tekapo, Haast Pass, Franz Josef Glacier and Punakaiki's Pancake Rocks and blowholes
SOLO TRAVELLER — LOW SEASON — ON REQUEST ONLY
10 Days From
Valued up to NZ$6,136
Sold out
Inclusion highlights:
Package valid for one person (solo traveller) — see 'Fine Print' for details
Guided walking tours in Christchurch and Queenstown. Plus, a Queenstown tour of your choice
Historic walking tours of Arrowtown, Oamaru and Dunedin. Plus, a Dunedin afternoon tour of your choice
Cruise of the iconic Milford Sound
Guided tour of Monteith's Brewing Company with an included tasting at the brewer's table
Iconic TranzAlpine train journey from Greymouth to Christchurch
See incredible feats of nature, including the turquoise Lake Tekapo, Haast Pass, Franz Josef Glacier and Punakaiki's Pancake Rocks and blowholes
SOLO TRAVELLER — HIGH SEASON — ON REQUEST ONLY
10 Days From
Valued up to NZ$6,821
Sold out
Inclusion highlights:
Package valid for one person (solo traveller) — see 'Fine Print' for details
Guided walking tours in Christchurch and Queenstown. Plus, a Queenstown tour of your choice
Historic walking tours of Arrowtown, Oamaru and Dunedin. Plus, a Dunedin afternoon tour of your choice
Cruise of the iconic Milford Sound
Guided tour of Monteith's Brewing Company with an included tasting at the brewer's table
Iconic TranzAlpine train journey from Greymouth to Christchurch
See incredible feats of nature, including the turquoise Lake Tekapo, Haast Pass, Franz Josef Glacier and Punakaiki's Pancake Rocks and blowholes